Watches worth watching

Living with watch
Vintage PATEK PHILIPPE
By WATANABE · APRIL 26, 2017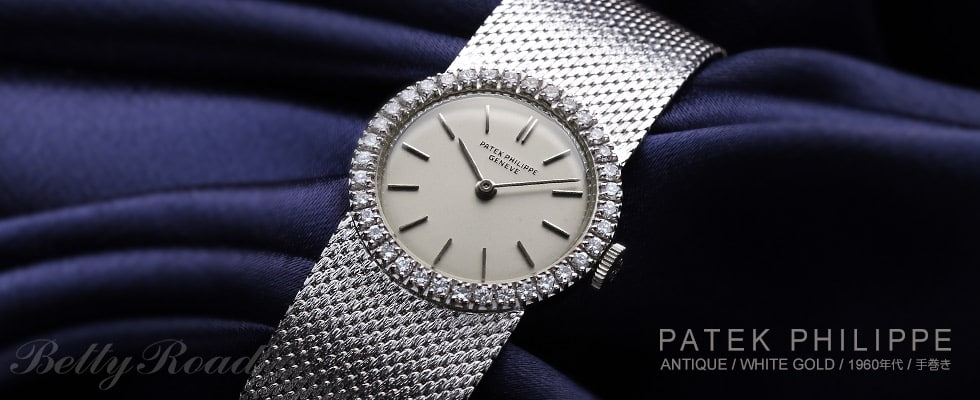 What do you think of when you hear Patek Philippe?
You can think of wonderful keywords such as luxury, profoundness, and elegance.
This is an vintage Patek Philippe. It's elegant, isn't it? The great thing about this watch is that it has an archive from Patek Philippe. An archive is like a sales certificate. Details such as when it was manufactured and when it was sold are described. Here is the archive of this watch.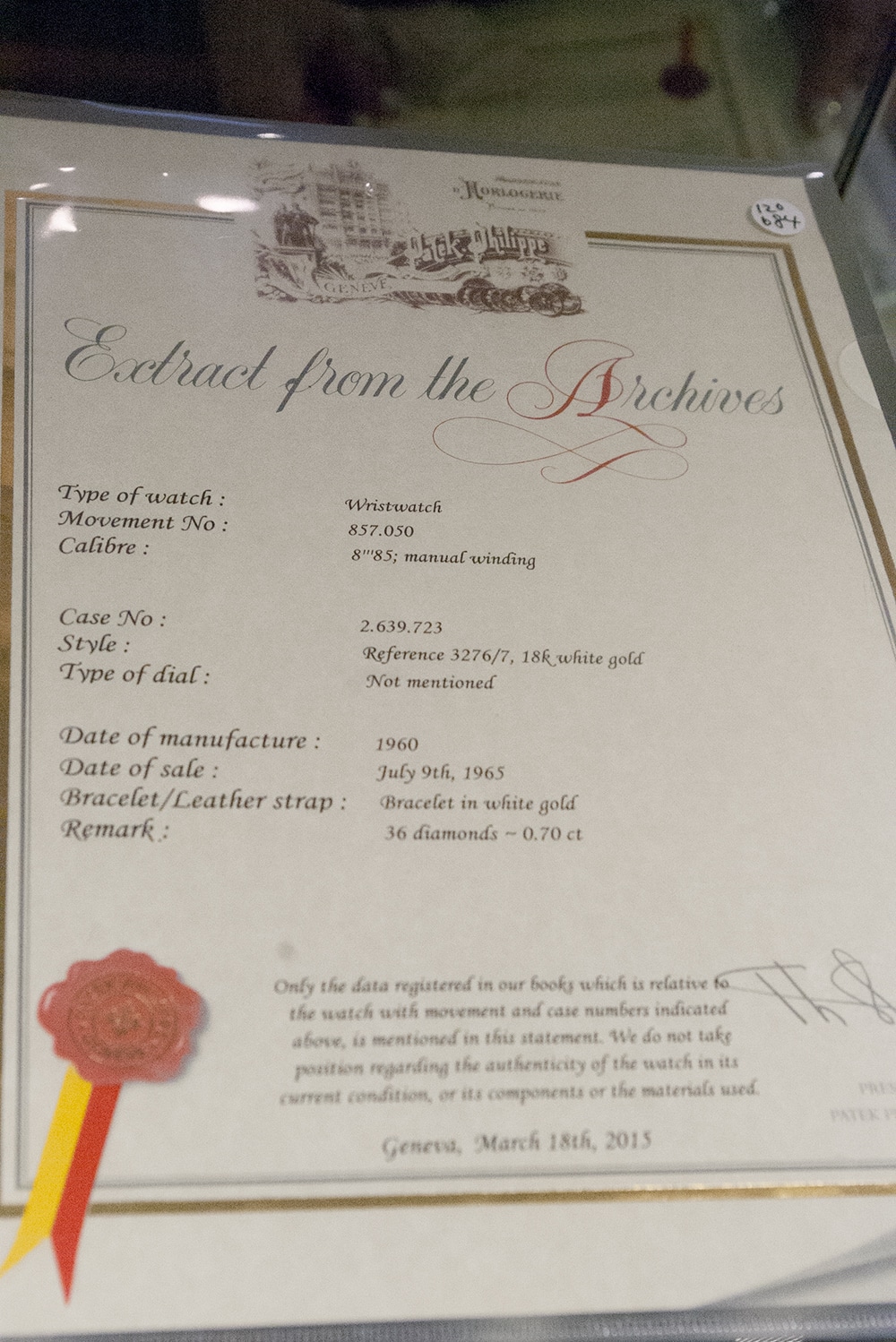 Of course, this archive will work if you take it to Patek Philippe. The movement has been replaced from the state at that time, Or, if the bracelets do not match, the archive will not be published. This is a certificate that says "all match" compared to the clock at that time.
The brands that publish the archive are prestigious brands such as Patek Philippe and Vacheron Constantin. It is not published by other manufacturers.
If you look at this archive, you can see that this watch was manufactured in 1960. And the sale date is July 9, 1965. Of course, all the information such as movement NO, case, model number, etc. is described.
Please see, the design of this bracelet.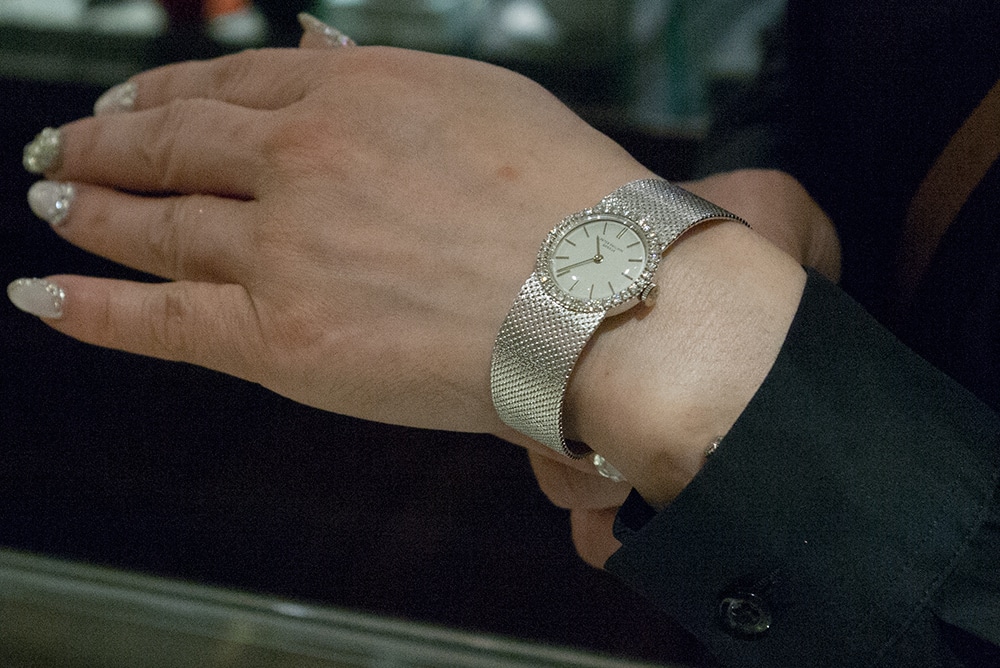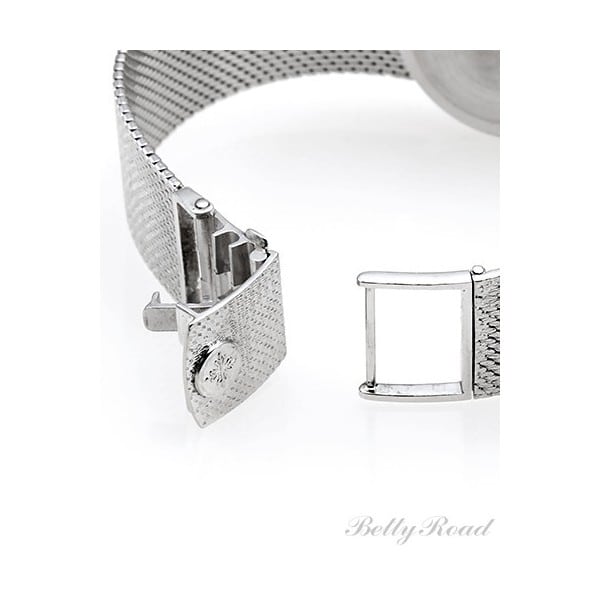 Designs for such bracelets were only made until the 1970s. Elaborate bracelets are invaluable nowadays because they are difficult to find. A prestigious "Patek Philippe" watch that can be worn like jewelry. Recent watches are made by connecting bracelet pieces one by one.
You're probably using more gold today than you used to be. However, if you make a mold, it is easy to mass-produce it, so it is easy to put it on the market.
This is carefully made by craftsmen one by one, so it requires a considerable amount of time, effort, and skill. Since it is handmade by craftsmen, it cannot be mass-produced, so it has a high rarity value. And it is very rare that the antique clocks of the 1970s remain in such a beautiful state.
There is no dust on the dial and it is in very good condition.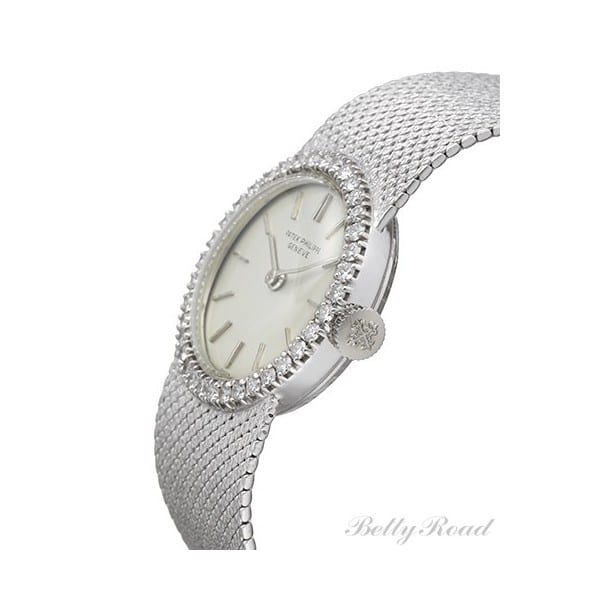 It is a very rare and expensive watch that only selected wealthy people can have. You can see how it was treated carefully because it is kept in a beautiful state.
Both the case and the bracelet are made of 18K white gold, so there is some weight. The dial is very simple and has good visibility like Patek Philippe. At first glance, this dial looks simple, but it's actually very elaborate. The index of this dial is tapped from the back side to make it stand out. I didn't draw an index on the dial.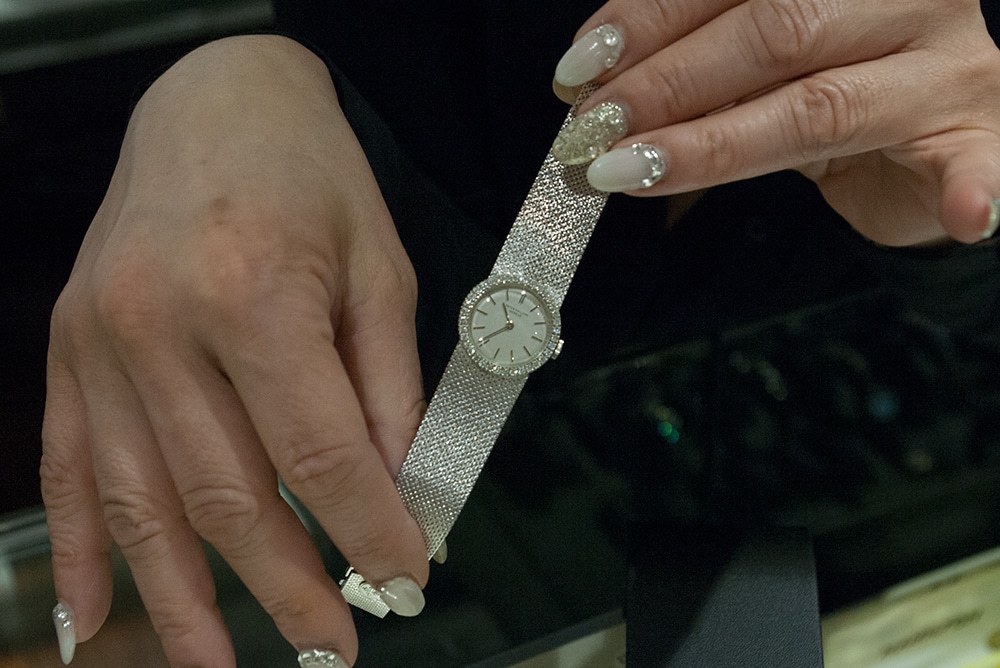 The diamonds on the bezel are elegant and beautiful. Nowadays, people who usually use watches with diamonds on the bezel are conspicuous. Casual clothes and suits, fashionable in various situations.
The atmosphere of such a watch changes depending on the combination of jewelry. For example, put a Boucheron ring on this watch ... By the way, it looks good on my nails today!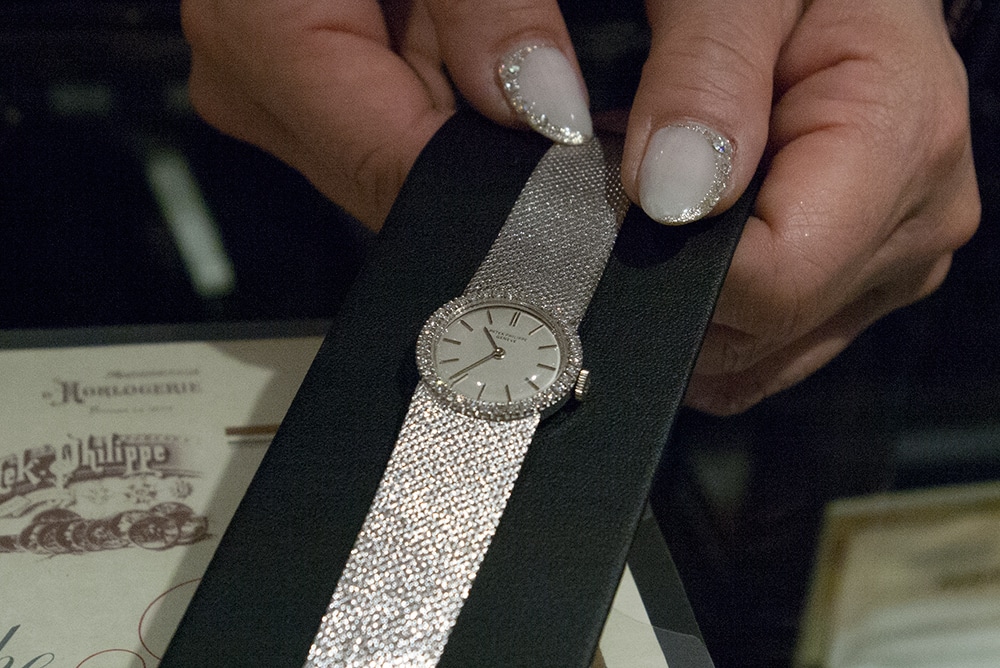 Patek Philippe these days also has quartz. However, this is a mechanical hand-wound watch, so if you perform maintenance such as overhaul, it will become a life-long watch. Watches purchased at our shop accept defects and regular maintenance, including overhaul.
You can rest assured that Patek Philippe is a manufacturer that receives maintenance on any old watch.
By the way, even if you don't have this archive (like a certificate), you can get maintenance at Patek Philippe.
Patek Philippe is a prestigious brand that can fix even 100-year-old watches.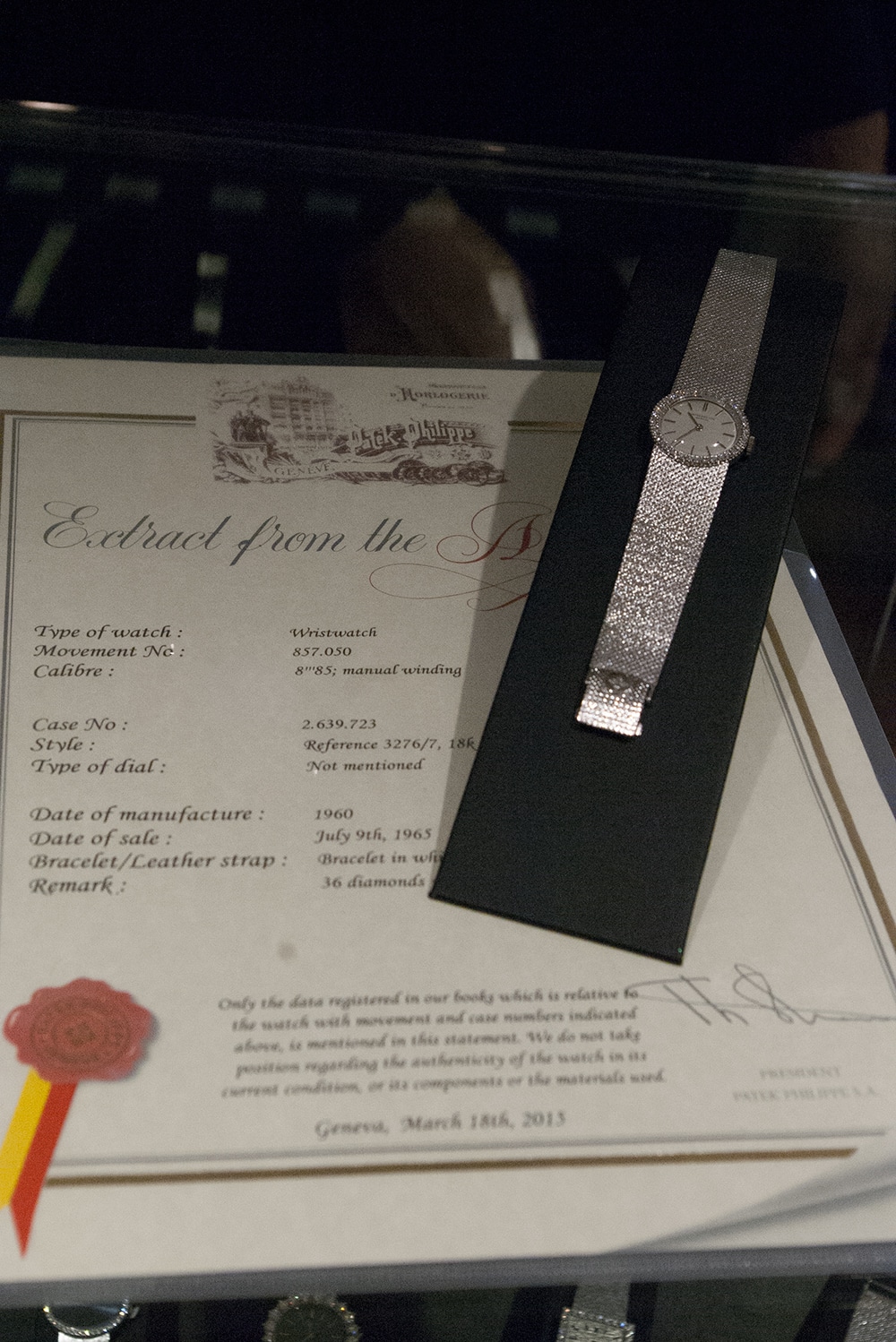 > > VINTAGE PATEK PHILIPPE