Watches worth watching

Living with vintage watches
Rolex Ref.1665 Red Sea Dweller~ The miraculous Brown Dial RSD Mark 2~ [Vintage Watch Buyerfs Journal Vol.5]
By TAKAOKA · AUGUST 27, 2020
Long time no see! Itfs Takaoka and I deal with vintage watch buying in Jackroad.
I would like to introduce a rare antique Rolex that we recently acquired.
Allow me to present, The Brown Dial Red Sea Dweller Mark 2.
Origins of the Sea Dweller
The Sea Dweller (SD) dates back all the way to 1967. Meaning the first edition of the SD would be a whopping 53 years old. In the same year, Toyota produced its iconic 2000GT, Takara Tomy sold their first Rika-chan dolls, Twiggy landed in Japan for the first time and the miniskirt boom hit.
I might have went a little off-track there. Well then, onto the 1967-born Sea Dweller. It was introduced as a higher-end Submariner with almost 3 times waterproof performance at 610m and a Helium release valve equipped at its case side.
About the Red Sea Dweller
The first Sea Dweller model, uRef. 1665vhad the words SEA DWELLER SUBMARINER printed in red on its dial, hence, that special feature coined its nickname gRed SeaDh here in Japan.
Throughout the Red SeaD was only manufactured for slightly over 10 years from 1967 until 1978, minor changes have been included in each batch. Thus, watches belonging in said batch containing each minor change are categorized as Mark 1, Mark 2, Mark 3 and Mark 4.
The watch I would like to introduce to you readers today is the one with a Mark 2 dial.
Produced between 1967 and 1969, being an unusually rare model with only small number manufactured, its unique features (which I will go further in-depth later) are the reason Mark 2 is particularly popular even among other Red SeaDs.
Identifying a Red SeaD Mark 2 Dial
The following are points to look out for when trying to distinguish a Mark 2 dial:
1) The printed gSEA-DWELLERh font on the dial is LARGER compared to the gSUBMARINER 2000h font.
Zooming in on the dials, we can clearly see that the words are not the same size.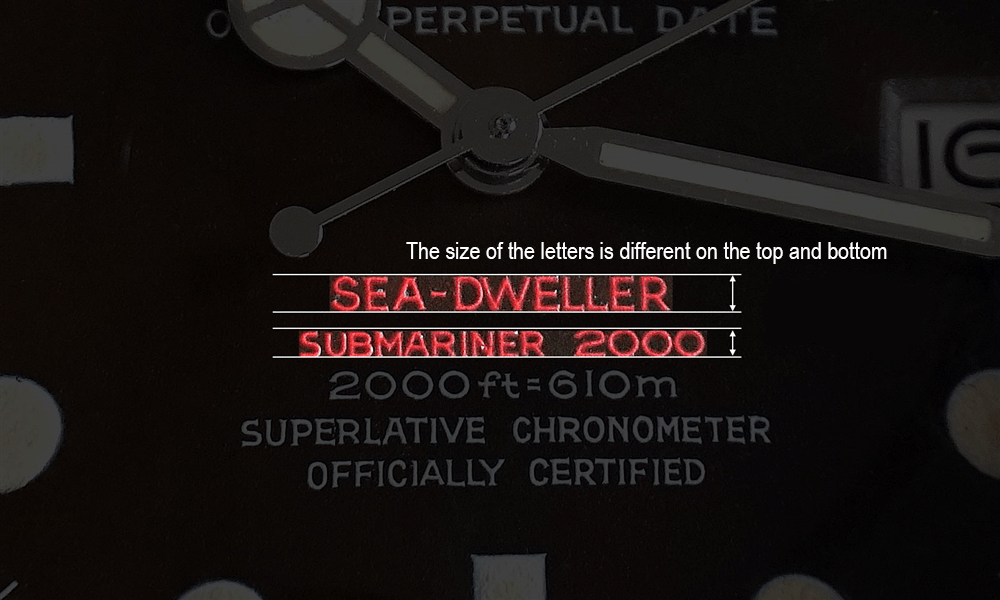 Mark 1 models had them printed the same size, however from Mark 2 onwards gSEA-DWELLERh had been made larger.
2) gOpenh 6
gOpenh 6 refers to number g6h on the dial with the Arabian font. This is when the curve on the bottom side of the 6 leaves a space and does not connect with the upwards curving line as shown in the next picture below.
The opposite is called the gClosedh 6 as shown in the following picture with the lines on the font of the 6 being joined together.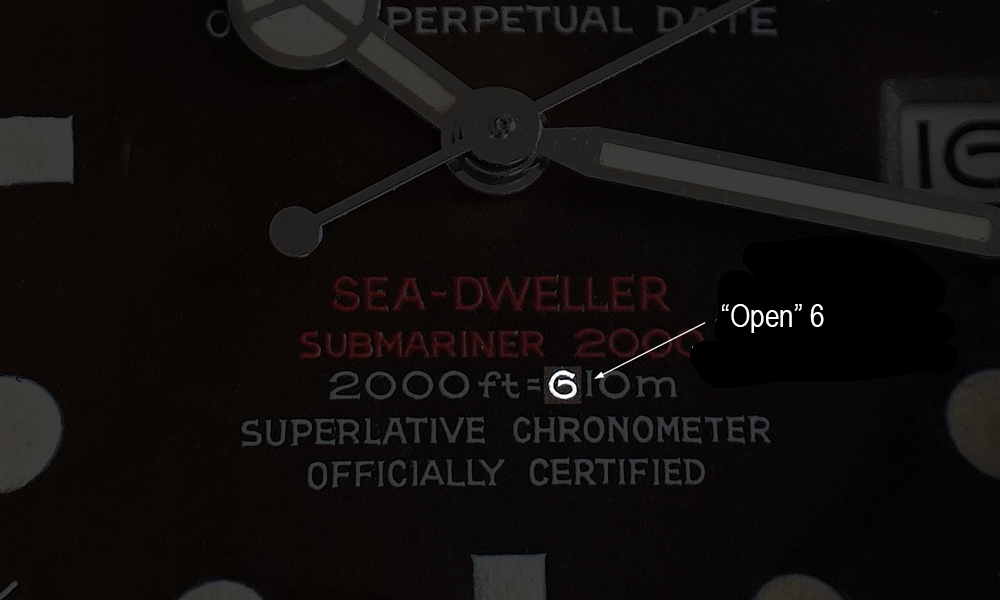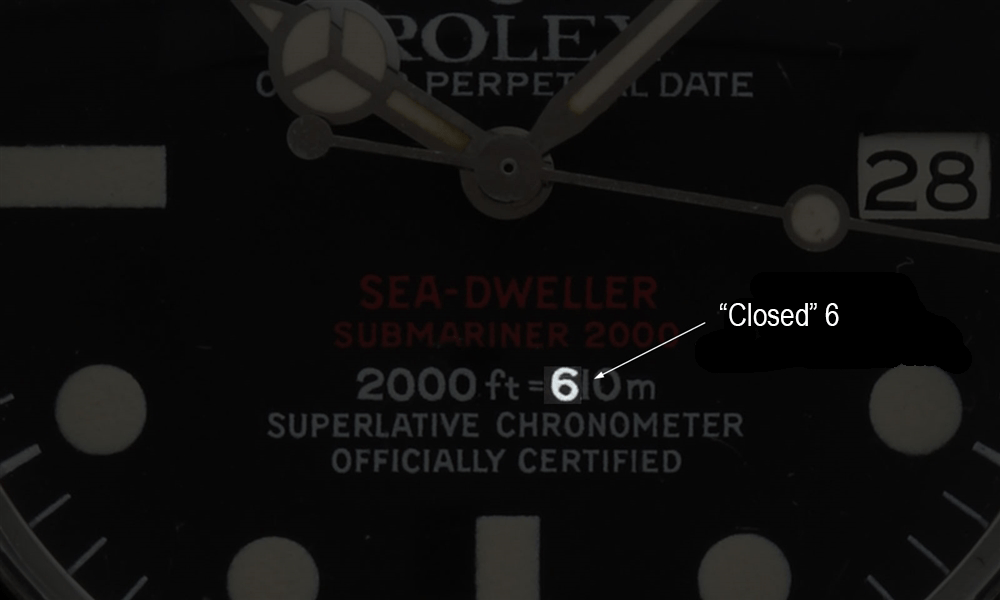 The gOpenh 6 feature was apparent until Mark 3, starting from Mark 4, the gClosedh 6 was introduced. Meaning, the Mark 2 was a gOpenh 6 as well.
3) Center Split
A center split was originally a feature found in the Rolex Explorer Ref. 16550. It refers to the space between the words gSUPERLATIVE CHORONOMETERh and the space between gOFFICIALLY CERTIFIEDh printed on the dial being aligned.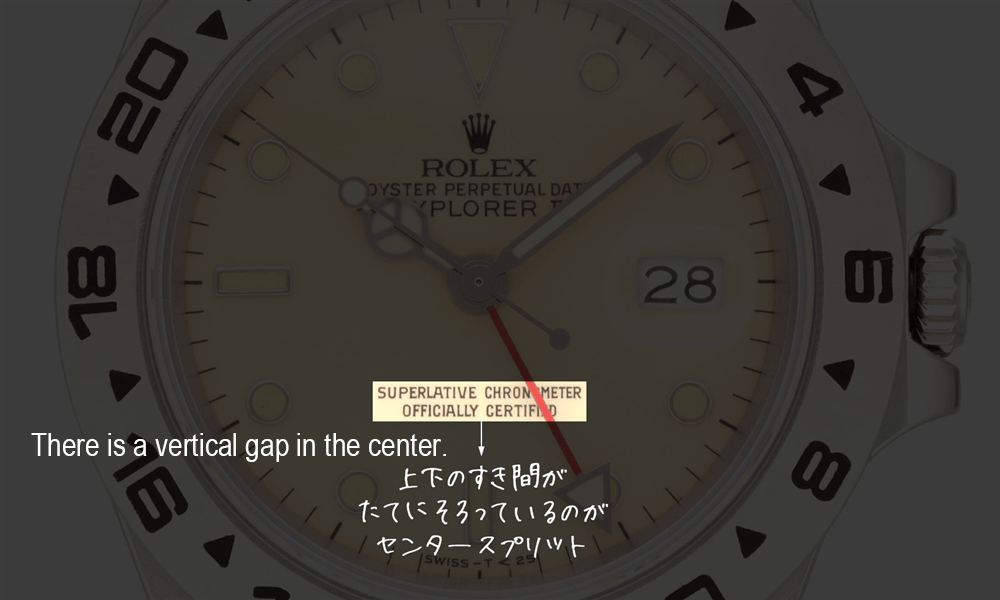 The above picture shows an Ivory Dial Explorer 2 Ref. 16550 with a center split. A nice clean split, donft you think?
In the case of the Red SeaD, the center split is not as aligned. However, compared to the Mark 1,3 and 4. The level of misalignment is less apparent, thus leading to the usage of the center split to identify a Mark 2.
A comparison between the Mark 2and Mark 4
It might be a little bit hard to see cLetfs try adding a line to make it easier.
When a red line is added, it clearly shows that the angle that it diagonally bends on the Mark 2 is less than on the Mark 4.
Additionally, the only difference between a Mark 2 and a Mark 3 dial lies in the center split. Thus, you may mistake between the two watches if you look solely on the dial.
4) The thickness of the case
Up until the Mark 2, the thickness of the case was considered rather thin for a Sea Dweller.
When compared with Ref.1665 (manufactured in 1978), there is a very slight noticeable difference.
A rather subtle detail, but a distinguishable trait nonetheless.
5) Extra: Engravings on the back cover
While this is not strictly a distinguishable trait, when the helium release valve was in the midst of being patented for Mark 1 , the words gPATENT PENDINGh was engraved on the back cover while the Mark 2 had both gPATENT PENDINGh and gPATENTEDh versions in circulation. From Mark 3 onwards, the engraving only reads gPATENTEDh.
Since wefre on that topic, letfs take a look at the inner workings of a Mark 2.
Underlined in red, this is a Mark 2 with a gPATENTEDh engraving. gPATENT PENDINGh Mark 2s are actually rather rare.
On that note, here are the insides of the watch.
Mark 2 Dials Turn Brown Easily
Time for the grand unveiling of the secret of the Mark 2fs unwavering popularity.
It is its dialfs ability to turn brown much easier compared to other models!
Thanks to this feature, commonly called gbrown changeh or gtropicalh, that the price difference between those with a brown dial and those without can be rather stark.
Please have a look at the dial of the Mark 2 we recently had in our hands.
The originally black dial has faded into a lovely chocolate color since it was first manufactured 50 years ago.
Letfs compare a similar Ref.1665 without a faded dial on the left with the brown dial on the right, and you can see the difference.
The degree of color change varies from each other. A piece such as this, with balanced brown change and having a well-attached dial is not something you see every day, I would say this is a piece with the cream of the crop condition.
Why is Mark 2 the Only One That Turns Brown?
There are various theories regarding this. The brown change that was apparent in the Mark 2, is seen not only on Sea-Dweller but also on some Explorer and GMT Master with black dial, and these brown-changed Rolex dials were manufactured by particular factory in the latter part of 1960s. Hence, the most probable theory is that the cause of this could be traced back to the mixing of the paint used in that particular factory.
However, this is not to say that eallf Mark 2 dials turn brown. Ultimately, it is only that emanyf Mark 2 dials in the market go through the gbrown changeh and so, this phenomenon is not as surprising among the vintage Rolexes.
From here let me introduce some vintage Rolexes that have gone through gbrown-changeh here at Jackroad.
Rolex Explorer Gilt Dial Ref. 1016 (Made in 1966)
Rolex Explorer Gilt Dial Ref. 1016 (Made in 1966)
Rolex Submariner Gilt Dial Tropical Ref.5058 (Made in 1961)
The browning may not be even, but that just gives it a vintage vibe, doesnft it?
How rare is a Mark 2 with a brown dial?
If I may give my humble opinion as JACKROADfs person-in-charge for vintage watch acquisition.
Every year we acquire about 20-30 pieces of vintage Red Submariner (or gRed Subh for short) that also has the words SUB-MARINER printed in red on the dial, which is deemed similarly rare as Red SeaD.
On the other hand, we only get about 1 to 2 Red SeaDs a year if wefre lucky. Most of the time theyfre Mark 3s or 4s. To be able to land our hands on a Mark 2 will be a rather impressive feat.
So yes, they are incredibly rare if, I might say.
To begin with, such a rare piece like this often only graces buyers with their presence at overseas high-end auction houses, such as Christiefs, and are being sold at prices beyond the reach of normal watch buyers, to be added into someonefs personal collection.
Thus, regarding us accomplishing this almost impossible feat, we personally invite you to come and marvel at this watch that we have put on display at our shop. (We recommend you giving us a call before coming to visit, as it may already be sold before you come!)
How to tell if a bezel has been replaced?
Wefve been focusing on the dial up till now, so letfs divert our attention to the bezel.
A bezel with such unforgettable beauty.
We sometimes receive inquiries from customers on how to tell if the bezel has been replaced (with another original one). To be honest, I am not 100% sure myself. Lately, wefve been looking into the GMT Master seriesf bezel, but that only shed a tiny bit of light for us.
This is not to say however, that there is no way to identify one. I do know of one simple identification method.
The uppermost point of the bezel, a bump sometimes called the gluminous pointh, is painted with luminous paint on the underside of its transparent resin.
When shone under black light (also called UV-A light), both the luminous point and the bezel would shine equally brightly. However, after 50 years itfs only natural for the Tritium luminous paint to wear off a little. It would be more precise to say that the luminous point and the bezel gshouldh shine equally brightly.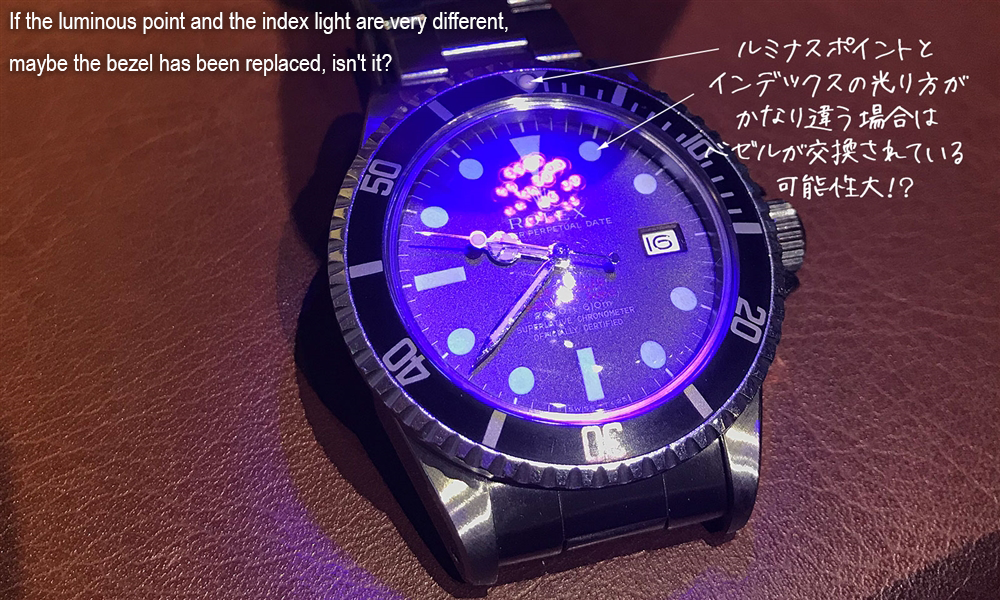 When shone under black light in the above picture...it doesnft really shine, does it?
The half-life of tritium is around 12 years, so it is to be expected.
If this was a newly replaced bezel, the luminous point would shine a little bit whereas the indices wouldnft shine at all. A sign that this is a replacement, perhaps?
A bezel replacement done a while ago, however, would not show much difference in the brightness between those two parts.
In my opinion, if the parts fit, it is not something to be very concerned about.
The New Generation Sea Dweller Ref.126600 is Honestly Something Entirely Different
On the 50th anniversary of the Sea Dweller, the new generation Sea Dweller ref. 126600 was unveiled at Baselworld 2017.
With the same red SEA-DWELLER logo, it bears the resemblance of the Red SeaDs of the yesteryears.
It gained popularity for allegedly being a re-issue of the original model, which in turn gave even more attention to the original Red SeaD.
However, when we line them up side by side.
The new model has its case size increased to 43 mm and also use Cyclops Lens for the first time in Sea Dweller history, giving it a more sturdy look.
The remake gave it a macho image, while the original was more delicate in appearance.
This is not to say that I am unsatisfied with what the 2017 Ref.126600 has to offer (the sturdiness of its build is one of the current generation Rolexfs charm points after all) .
But with the dwindling number of vintage watches in the market, I canft help but think how wonderful it would be if there are people who can appreciate them as much as I do.
Roundup
So what did you think?
These are subtle differences indeed, but it is such subtle difference in each different version of the same model that let them being priced at premium, an incredible phenomenon on Rolex.
When making a purchase in this day and age, when the shopkeeper tells you gThis product fades easily so please handle it with careh you probably will think gHuh? Isnft this defective?h
To Rolex, they probably will tell you that this is the defective product from the past that is still circulating in the market, so if you take your vintage Rolex to an authorized dealer for maintenance, you might accidentally have your dial replaced with one that will never fade (lol).
Usually, an item is only called an antique when it is 100 years old. However, at our store, we consider watches manufactured before 1990 as gantique(vintage) watchh.
The Red SeaD we introduced this time was manufactured in 1968, meaning, itfs about another half century to go before it can be called an antique by the masses. In another 50 years, just what kind of changes it will go through, I can only imagine.
To the future buyer of this historical heritage, please take good care of it and I will be very grateful if you would be so kind as to let me see what it becomes,.
Thus, ends our article. Letfs meet again the next time we find another rare piece!