Watches worth watching

Vintage:ROLEX SUBMARINER
Today we would like to introduce about vintage watches.
By TAKAOKA · AUGUST 7, 2018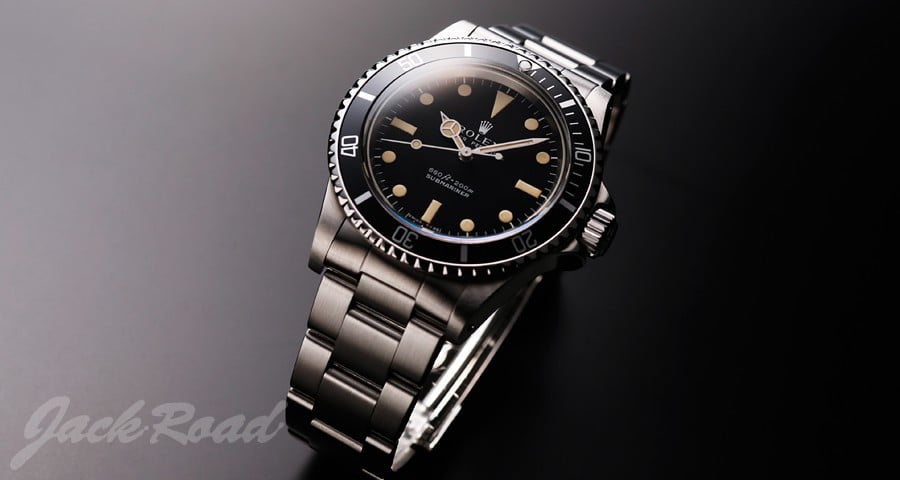 Today we would like to introduce about vintage watches.
Rolex Submariner is the most classic and popular model all among vintage watches.
Watches with matted dial and plastic windshield (*1) will be treated as vintages.
Plexiglass CRYSTAL
(*1) Plastic windshield : Parts covering the dial are made of plastic.
As there are a lot of fans seeking Rolex against the distribution volume, the price of the watch will rise steadily.
Originality is very important for vintage watches, and the higher the originality is, the better it gets evaluated.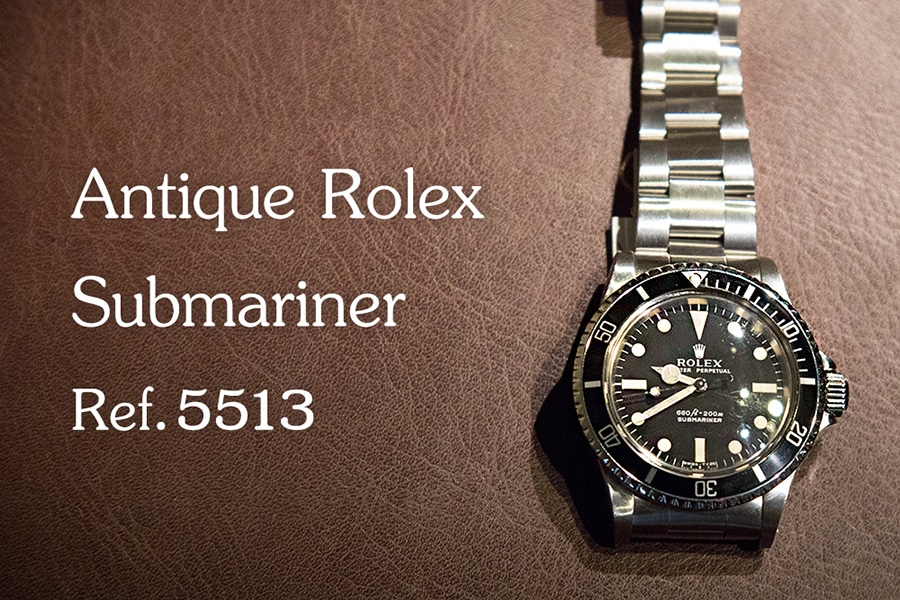 Depending on the age, the repair service may be terminated, but basically it will accept repairs with vintage Rolex.
However, there may be a possibility that the harmony of the dial can be changed when asking for repair.
Parts are changed to new ones, they become partially shiny and may lose the vintage feelings.
Then, the originality is lost, and the value as a vintage falls.
For example, even with the same model, the same age, some are about 1.5 million JPY and some are about 1 million JPY.
To this vintage Rolex, a luminous paint called Tritium (*2) is used for its hands and dial.
(* 2) Tritium: There is different kinds of luminous paint such as "Radium · Tritium · Luminova" etc. Tritium is not a phosphorescent but a self-emitting paint, so it emits even in a bright environment.
Since it is still remain as it was, colors are balanced good overall.
If you decide to replace the hands or dial, it will be exchanged for something shiny, which is different from the original.
Since the composition of the luminous paint changes after 2000, the way of shining is different from the original one.
In this case, overall atmosphere will change from the original and it will result in a lower value.
Just like paintings of famous painters, historical antiquities, and vintage jeans.
The one with longer history and higher originality gets the higher value.
It is difficult to wear the watch carefully and maintain the originality at the same time.
If you use it carefully while maintaining the good condition, the market evaluation will be high.
If you treat the watch roughly or touch the water, and replace the parts, the market evaluation will be low.
Fewer words and more action. Let us see the real watch whose value actually increased.
This is the one.
The current price for this watch is 1,257,408 JPY (tax excluded).
The retail price was around 300,000 JPY at that time.
Far from being low, the value is going up year after year.
Of course, since it is about 40 years ago, prices different between then and now, and it is hardly compare the retail price either.
So the price is for reference only, but we cannot deny on the fact that the price is rising.
Rolex is a very much popular brand.
There is a thing that the market price rises at the timing when they switches current model.
Usually, in the case of household appliances, if half or one year passes, the price falls and it becomes cheap.
However, in the case of Rolex, the price rises in reverse.
For those who are forecasting that the price will rise in the future, they just keep watches and wait for new models to come out.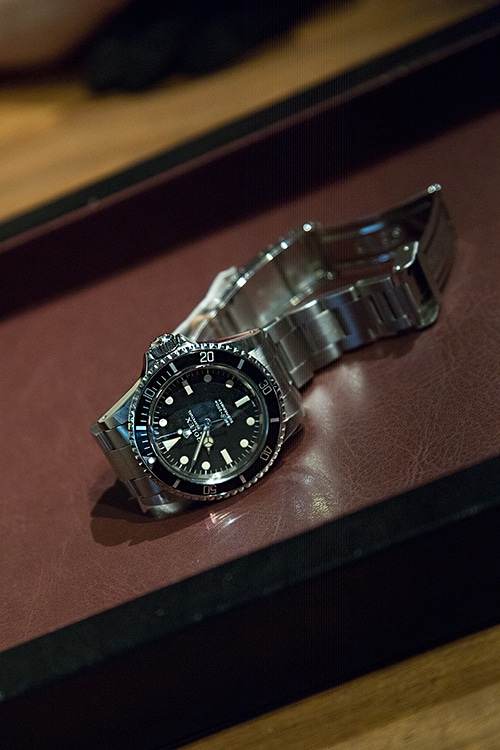 Many customers are looking for vintages not only from China or South Korea but from the United States, UK, Italy, Germany, Singapore and Thailand also.
Because our shop has been introduced on overseas websites and magazines, it must be well-known to those vintage manias.
There are plenty of well-conditioned vintage items available every day. Our shop has long enough history that you can purchase with confidence.
Despite the small volume of vintage watches, there are few shops can arrange this much as we can.
Thanks to the unique network of JACKROAD, we are able to stock all of them.
We have reasons that overseas vintage collectors come to visit. Besides the complete assortment of vintage watches, rare pieces that can only be seen by overseas auctions are displayed in our shop.
Normally, items from auction are not easily seen. In this case, we don't need to mention how wonderful it is that they can actually be seen in our shop.
About accessories, it certainly becomes a big point.
For example, 40-years-old-accesories are hardly existed.
It depends on the first retail price, but for example, if the watch was about 1.5 million JPY and if it comes with accessories, 300-400 thousand JPY will be plus.
Because it is rare, the price goes up and the value goes up too.
Most of the customers who use it as a watch, do not care if it is comes with accessories.
Vintage manias who looking for vintage watches are already noted that there are no papers.
However, those who has the purposes of collecting or investment, they are requesting accessories.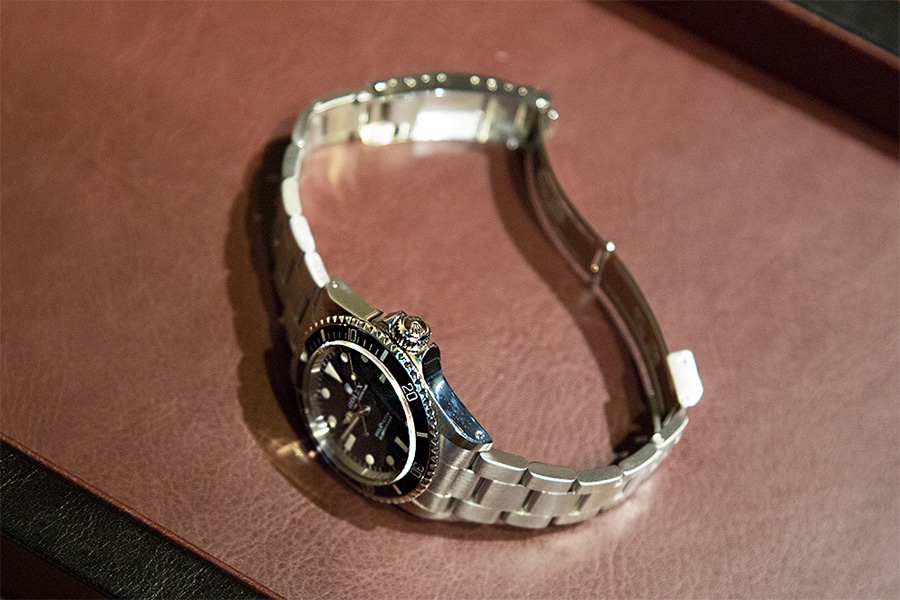 If the watch is still popular, also maintain in a good condition, it will be evaluated as much.
Therefore, some customers keep the popular vintage watches for investment purposes.
It would be great if you get more than you paid even after using.
It would certainly be a worthwhile thing to try.
> > VINTAGE ROLEX SUBMARINER